Gov Wike COVID 19
The Rivers State Governor Nyesom Ezebunwo Wike was allegedly stone on Saturday at Creek Road market, Nembe Waterside, Port Harcourt, trying to enforce total shot down of market places in Port Harcourt.
An eye witness who was at the scene told Dez Mayorz Nigeria.
She said that Gov Wike was stoned trying to enforce COVID 19 stay at home and to stop market people from selling in Rivers State.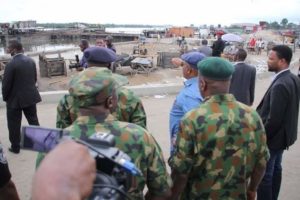 "Gov Wike heard that traders still come outside to sale and he came by himself, and send police to destroy peoples livinghood."
"As if that was not enough he came in the afternoon and the market people grew angry and started stoning him."
"Gov wike stepped into his car and ordered the police to burn people's goods and items and the police that came with him started shooting carelessly at the crowd and arrested some persons." – the Woman reported.
Earlier, Gov Nyesom Wike banned all the markets in Rivers State after the State confirmed her first case of COVID 19.
The Corona virus pandemic have infected over 650,000 people in the world. Nigeria recorded 97 confirmed cases with one of the case in Rivers State.
Rivers State people are urged to obey the government and stay at home.