Gov David Lyon.
'Today Is One Of My Great Day Of My Life' — Bayelsa Gov-Elect Murders English Grammar
David Lyon, governor-elect of Bayelsa state, may be a grassroots politician who loves his people, but he is apparently not in love with English grammar.
Lyon, a member of the All Progressives Congress (APC), rose from obscurity to defeat Duoye Diri of the Peoples Democratic Party (PDP) in the last governorship election in the state.
Lyon addressed state house correspondents after his meeting with President Muhammadu Buhari on Tuesday.
The governor-elect though unassuming conveyed his message in impeachable grammar.
"Today is one of my great day of my life. The great people of Bayelsans have spoken their mind by taking time to vote for our great party APC. It's indeed a welcome development because in our own campaigns, we give to them, when being elected and swear in, we give to them security and development; it is our key agendas," he said in sputtering grammar.
"And with support of Bayelsans, they have made it possible. Today, on behalf of my APC leaders, I promise Bayelsans we will serve them, not Bayelsans to serve us. We also to promise we will respect leadership.
Respect leadership is key to us. And today, their vote has been counted and the people of Bayelsa will be respected. I'm sincerely grateful to our father the president of this country, for his fatherly advice this afternoon. As one of his son in APC, I thank you very much we Bayelsans will not disappoint APC."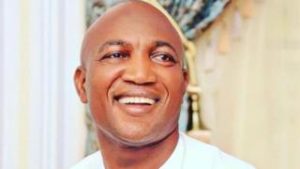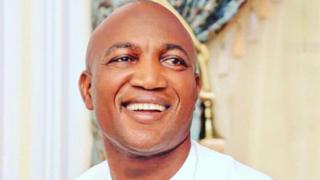 Here are 13 things you should know about Lyon
1. His full name is David Lyon Perewonrimi
2. He is the CEO of Darlon Security and Guard, a private security firm in Bayelsa state.
3. He was born into the Olodiana clan of Southern Ijaw local government area of the state.
4. He is a wealthy businessman.
5. He is not a very popular face in the Bayelsa political landscape.
6. He contested under the platform of PDP as an aspirant to represent the Southern Ijaw constituency IV in 2011.
7. He defected from the PDP in 2015 to join the ruling APC.
8. He was born on December 20, 1970, in Olugbobiri community.
9. He is 49 years old.
10. He attended Saint Gabriel's State School Olugbobiri, from 1978 to 1983
11. He attended community secondary school, Olugbobiri, from 1984 to 1988.
12. He went to Rivers state College of Education
13. He possesses a National Certificate of Education (NCE).
14. He is a grassroots politician, but not that good in English grammar. who grammar helps ?