Oraye St Franklyn resignation.
The SSA social media to Emohua Local Government chairman, Bright Jossy has roared at Oraye St Franklyn (former SA to Gov Nyesom Ezebunwo Wike on social media affairs) on his recent resignation, tagging his resignation as an habitual betrayal.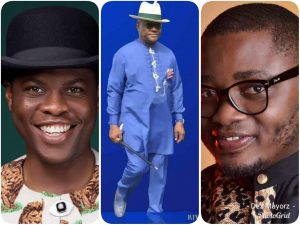 The former SA to governor Nyesom Wike resignation was accepted by Gov Nyesom Wike few weeks ago, with the reason to allow other person to experience the job, there is no any other reasons he gave except to allow others experienced the job, but Bright Jossy took his media handles to blasts Oraye St Franklyn for blaming the government on his resignation.
Below is Bright Jossy post, followed by Oraye St Franklyn resignation statement.
WHAT DID HE SAY WERE HIS REASONS FOR BOWING OUT ?

It's So Annoying How People Speak From Both Sides Of Their Mouth Just To Misinform And Attract Undeserved Sympathy From Unsuspecting Members of the Public…

Ordinarily the Right To Bow Out Of Appointment Or Employment Is Not Questionable But It Takes A Habitual Betrayer and Unstable Character To Throw Stones At His Former Employer After Bowing Out Of An Office He Got Out Of Benevolence.

Politics they say is a game of interest, and everyone has the right to align and realign where his or her interest is protected but one should be able to move on without throwing stones back to his former political party As he moves to another to pursue his ambition or where he has better offer.

There Have Been Cases Where People Bow Out Of Their Appointment With The Blessings Of Their Employer To Pursue Their Career Or For Another Better Job, And Some Even Move To Other Political Groups , Maintaining A Cordial Relationship With Their Former Benefactor And Friends , But That Can Never Be The Case With An Unstable And Ungrateful Character whose palm-kernels were cracked for him by a benevolent spirit.

WHAT ARE REALLY THE ISSUES HERE ?
For a Good Number Of Us Who Have Been In The Forefront In The Defence And Promotion Of Gov Wike And His Vision To Liberate Rivers State From Dictatorship Rule And Return Power Back To The People As Far Back As 2013 , We Can Recall That This Same Character Was In The Forefront Of The Campaign Of Calumny Against The Emergence Of Gov Wike As The Flag Bearer Of PDP Prior To The 2015 General Election.

Gov Wike Was Called Unprintable Names By This Same Character and His Cronies ,Using Verifiable And Pseudo Social Media Handles, All In A Bid To Discredit The Man Before The Electorates.

The Narrative Of Chasing Our Our Ibo Brothers From Rivers State If Wike Emerges was one of the creations of this same character .

The Ethnic Politics that was Employed To Incite The Ijaws against the Ambition of Gov Wike To Contest For The 2015 Governorship Election was Championed online by this same character with his Numerous Pseudo Social Media Handles, Which He Is Already Reactivating Gradually For His Next Mission .

This Same Character accused Gov Wike Of Planning To Embezzle Rivers State Fund On Alcohol when elected into Power, Just As He Accused The Governor Of Being A Member Of Ogboni Confraternity , All In A Big To Paint Him Black In The eyes of the unsuspecting members of the public, But little did he know that he would one day become an Employee of the same man he attempted to destroy his image.

The Same Man That Accused Gov Wike of Planning To Embezzle Rivers State Funds Is The Person Complaining Today That He Is Not Seeing Money In The Government. That Alone Has Vindicated The Governor Of The Accusation Of Embezzlement… After All The Governor Isn't Wasting Rivers State Funds On Frivolities.

Was he actually expecting the Governor To Give him Rivers State Tax Payers Money To Embezzle?

For Some of Us who aren't unaware of his betrayer tendencies, we knew that a day like this will come , when he will begin to sing in another tone, It Is Even Coming too late.

Even some of his former allies who he has finally gone back to predicted what is happening today as far back as 2015 when he was employed by Gov Wike, But We Took him in because of his appointment by the Governor and today the prediction of some of us have come to play.

We Are Aware That They Are Already regrouping as usual to resume their ethnic Politics and Circulation of Propaganda against the Administration of Gov Wike, But that would be dead on arrival Because Rivers people are wiser and greater than their machinations Now.
I Won't Also be Surprised to see him leave those Presently Dinning And Winning With Him for another new location…because instability is an incurable deficiency.

I Heard He Is giving Different stories and Excuses to different Persons as to why he Bowed Out of his Appointment To Realign With His Former Allies.

Now Let's Take Them One After The Other:

1. I Learned He Said He Is Not Seeing Money In The Government:

Now let me ask: Can A Man Who Is Not Seeing Money In Government Buy Two Exotic Cars Within 4 Years in The Same Government, Own Choice Properties Within 4years In Same Government , Host An Elaborate Burial Ceremony For His Grand Father That Attracted top Government Functionaries To His Community, with a Stage and Musical Equipment worth over a Million Naira and Food And Drinks Estimated to be Over 5 Million Naira, As Well as The Okrika Okuru-kaka Traditional Marriage Rites all within 4 years of Employment by Gov Wike Without Having Any Other Known Payable Occupation ?

Has He Forgotten In A Hurry The Numerous International Trips He Embarked On Within This Four Years And The Financial Benefits Attached To Each Of Them ?

How Many Electronic Gadgets Had He When He Was Employed By Gov Wike And How Many Has He Acquired Within This Four Years ?

This I Think Goes To Show That The Young man Cannot Promote and Project His State Without Being Paid For it.

2. I Learned He Said That Gov Wike Doesn't Like The Ijaws:

Ordinarily No One Would Want To Take him Seriously On This Particular Issue Because It Was Still him that championed this same Narrative Against the Governor prior to the 2015 General election but was later employed by the same man he accused of hating the Ijaws and Immediately changed his tone with praises of him and how he loves the Ijaws , all to protect his job and pay.

Was He Thinking That There Were No Quality And Qualified Persons Elsewhere To Have Taken Up The Office He Was Appointed To When The Governor Settled For Him ?

I am not surprise Seeing that he has resumed his usual politics of ethnic Sentiment, Using His Numerous Pseudo Social Media Handles To Incite the Ijaws against other sister tribes in Rivers State and Launch Attacks on the Governor and His Policies because that's what he is known for, But the Ijaws Know That No Rivers Ijaw Man Raised His Head To Challenge A Former Rivers State Governor Of Ikwerre Extraction Who Openly Abused and Opposed the First Ijaw Son To Become President Of Nigeria when this Same Gov Wike Took It Upon Himself to stand by the Former President , and Is Still Standing Strongly By The Ex President and the Ijaws Race.
It was the same Wike that was in the forefront of the Support and defense Of Goodluck Jonathan , As Against His Own Ikwerre Brother , When All Other Prominent Ijaw Sons were Neither Here Or There.

3. I Learned He Insinuated Via One Of His Subliminal Messages On His Facebook Page That There Was An Attempt To Initiate Him Into A Secret Organisation.

How Come He Wasn't Initiated When He Was Employed In 2015 , Amidst His Prominent Role In The Campaign of Calumny Against Gov Wike Prior To The PDP Governorship Primary For The 2015 General Election, Where The Same Ogboni Narrative Was Created To Defame the Person Of Nyesom Wike?

It's Obvious That He and His Cronies are already regrouping to resume their Campaign of Calumny that they are known for, But Rivers People Have Gone Beyond Their Imaginations.

THE RESIGNATION.

It Is Unfortunate That this character hurriedly posted his resignation on his Facebook page without informing the public how he was asked to resign and the reasons why he was asked to do so.
Most unfortunate is the fact that He Thinks He Could just put out what ever he wanted others to know and Expect Everyone To Believe him, forgetting that it is up to anyone to believe what was told or find out what wasn't told.

1. Funds Were Allocated to the Social Media Directorate of Rivers State PDP 2019 Campaign Council ,To Take Care of The Rivers State PDP Social Media Influencers, at least to enable them pay for their data subscription, But Nothing has been Heard Of The Millions Till His Resignation. No PDP social Media Influencer Was Given A dime for the Campaigns, after they toured The 23 Local Government Areas In Batches.

2. The 4 Years Anniversary / Inauguration Committee Of Rivers State Government made Financial Provisions for Social Media Coverage of all the events lined up for the Anniversary and Inauguration Ceremonies after a Budget was presented by the social media sub Committee , Till his resignation Nobody received any fund, even after an upfront Mobilization was made for the same purpose.

3. The Social Media Influencers that were Engaged to cover the National Festival of Arts And Culture (NAFEST 2018) are Still Owed Some Balance after Part Payment Was Made to them on the last day of the event… Till his resignation Nothing was heard again., even after the social media sub committee had been fully mobilized before the take off of the Project.

These And Many Other Issues Requires Some Clarifications In Relation To The Resignation.
Below is Oraye St Franklyn resignation statement:
NO PLAYER HAS A PERMANENT SLOT

When I signed on as a top striker for the New Generation Team, I knew I only had a moment in time to make my mark for my team in a defining game that consisted of 2 parts. It didn't really matter to me that I played just the first part or joined in the return leg. What mattered was that while I had the opportunity to be on the pitch, in spite of dogged tackles from the Opposing Team and 'friendly' tackles from zealous team members, I contributed my best in making the game enjoyable in the same breath as also ensuring that my team won.

So far, it's a rollercoaster of victories. The first leg was tough but we managed to pull through. To think that the Opposing Team could be so daring as to import strikers from abroad in defiance of the rules of the game was unbelievable. More shocking was the seeming connivance of the FA in looking the other way while rules of the game were rubbished. Fortunately, we held our ground until we secured the much needed goal of the game. Thank God for good referees! Thank God for VAR!

The return leg has just began with a clear lead for New Generation Team. I have beckoned on the coach to enable me step aside after several dazzling dribbles on the pitch with the scintillating collaboration of other team members, which apparently left the Opposing Team dazed, dumbfounded and defeated.

Thankfully, I have stepped aside to allow fresh legs cruise home to victory and finish the job neatly. There is no cause for alarm and no danger in sight to the best of my knowledge. It does not appear to me that the New Generation Team will not be the ultimate clincher of this return leg as well, all things being equal.

This is the beauty of Sports. No Player has a permanent slot on the team. Despite that the vagaries of sportsmanship can throw up unlikely conditions like injuries and suspensions or even transfers in the cause of the game, it is not also unexpected for fit sportspeople to be benched either by unlikely conditions or by the coach in the overall best interest of the team. It happens all the time in sports. It's the beauty of the game. I'm out and for good. It was a beautiful game while it lasted. I thank you our supporters club for all the cheers and sometimes jeers. You spiced up the experience greatly. Thanks a thousand times.

While you are reading this, it's important to know that the game is continuing. As a player you need to keep your eyes on the ball and not on this screen. You see! The ball is now in your court and I am one of the spectators watching to see what you'd do with it. Oya na. Get going!

☝️for those who helped in making the experience great, the link above is my thank you message. I appreciate.
What's your take ?
Comment .