CBN governor.
CBN Governors is a 5years tenure office. They usually proceed on 3months terminal leave towards the end of their tenures. This period allows high level of interaction between the outgoing and incoming CBN Governor.
Emefiele was appointed CBN Governor on June 3, 2014. His tenure would expire June 2, 2019 unless the President re-submits his name to the National Assembly for a 2nd term.
Ordinarily, his leave should have commenced on March 3, 2019 but as at yesterday, he has not been asked to proceed on leave.
Just a week after Nigeria presidential election, Buhari kick off his Next level administration by punishing Biafrans for not voting for him as he sacked CBN governor.
But Information reaching DEZ MAYORZ Nigeria via CBN source has it that they are putting unnecessary pressure on the CBN governor and Amina Zakari might be appointed to replace him.
President Muhammadu Buhari has asked the Governor of the Central Bank of Nigeria (CBN), Godwin Emefiele, to proceed on leave ahead of the expiration of his tenure.
According to CBN sources, Emefiele received a letter to that effect on Monday. But the Nigerian presidency reacted otherwise. 
Also, the Central Bank of Nigeria (CBN) has dismissed claims that the CBN governor, Godwin Emefiele has been sacked.
Dismissing the report, the Director Corporate Communications of the CBN Mr. Isaac Okorafor told The Nation that "the governor is in his office working. I don't know what you're talking about."
Another official of the CBN also told The Nation Correspondent that "there is nothing like that, the governor is here, his tenure expires in June.
"In fact he has functions to attend to tomorrow, one of which is to meet with stakeholders in the cotton value chain on Tuesday March 5, 2019."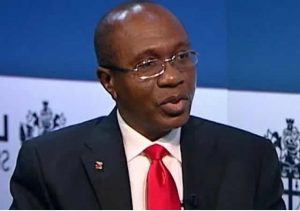 Emefiele has been Governor of the Central Bank of Nigeria since June 3, 2014