Adams Oshiomh.ole Helicopter.
December 29, 2018
Press Release
ADAMS OSHIOMHOLE USES POLICE HELICOPTERS FOR PRIVATE VISITS.
IGP MUST STOP DEPLOYMENT OF POLICE HELICOPTERS TO ADAMS OSHIOMHOLE.
… Helicopter used as weapon of intimidation by Adams Oshiomhole
On Saturday December 29, 2018, a police helicopter was observed hovering around Edo North Senatorial district menacingly. From Afuze in Owan West to Agenebode in Etsako East and finally to Iyamoh in Etsako West. It's VIP passenger was Mr Adams Oshiomhole, National Chairman of APC.
This is the height of impunity. It is totally unacceptable that the Inspector General of Police, IGP, will in this period of serious security breaches in the North East and some states in the North West and North Central of the country, deploy the use of police helicopters to politicians, Adams Oshiomhole specifically instead of using them for patrols to safe guard life and property of Nigerians in these regions.
The aim of the low flying helicopter was to intimidate the improvised and hapless people of Edo North senatorial district as the general election is approaching. Adams Oshiomhole powered by the IGP has begun the intimidating campaign, one of the devious and dubious ways they believe they can use to achieve their aim of writing results in the upcoming elections as they know that they have been rejected by majority of Nigerians as a result of their abysmal performance as a government and catastrophic behavior exhibited by their national chairman, Adams Oshiomhole!
We use this opportunity to advise the IGP not to allow himself to be used and stop deployment of tax payers funded helicopters to members of the ruling party especially its National chairman few weeks to a general election. It is unacceptable, unprofessional and exposes the police to ridicule.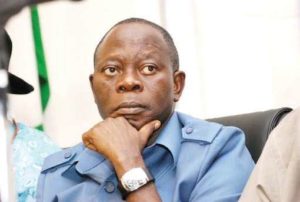 We trust that this will be the last time!
Signed
Chris Osa Nehikhare
SPS PDP EDO STATE