OMPAN Rivers State.
OMPAN RIvers State set for a sterling inauguration in Port Harcourt @DezMayorz event.
Online Media Practitioners Association of Nigeria (OMPAN RIvers State) set for a sterling inauguration in Port Harcourt. The inauguration will be fused in DezMayorz @ 2 event taking place in Eagle Island, Port Harcourt.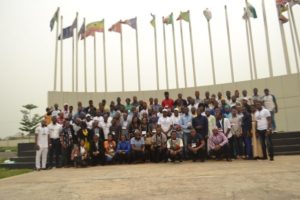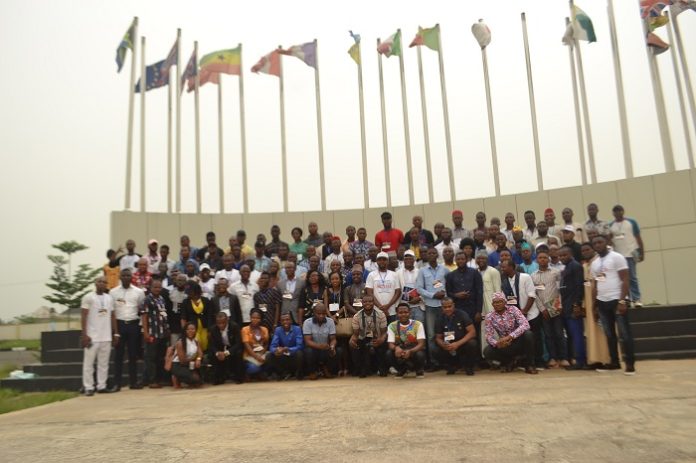 The national president of OMPAN and director of IgbereTV-Emeh Anyalekwa and OMPAN Deputy president in charge of south South zone -Emmanuel Enebeli among others will storm Port Harcourt to inaugurate the OMPAN Rivers State chapter, after the successful National convention in Owerri late March 2018.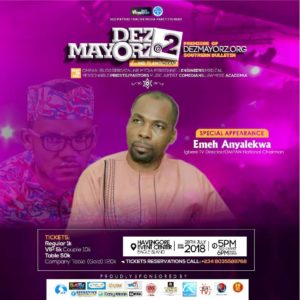 Below is the full list of the Rivers State exco.
1. President – Mr Flamboyant Okoye (DezMayorz.org) Elected at the National Convention).
2. Secretary – Queen Vincent (Alert news) elected at the national convention.
3. Treasurer -Mr Ifeanyi Obiefuna (MrIfeanyiblog.com).
4. Financial Secretary – Uyi Eunice (Alert news).
5. Welfare – Otuonye Chidera (BelieveAll.com).
6. Editor – Isaac Godwin (818tvonline.com).
7. PRO – Peter Henry (ISN).
8. Provost – Elvis Ihua (Alertnews).
9. PRO II – Amadi Innocent (puoreports.com).
10. Welfare II – Ajie Francisca (Selflesstv).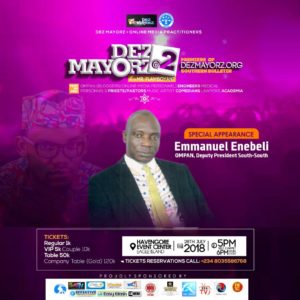 Below is DezMayorz at two event bill, special appearances and preforming artistes.
Dez Mayorz (Unique event)
with OMPAN -Online Media Practitioners.
Converging different disciplines at a place.
Mr Flamboyant(Schidi) presents
DEZ MAYORZ @ 2
DATE : 28th July 2018
Time : 5pm red carpet.
6pm Main Event.
Venue : Havengore Event centre, Eagle Island.
Featuring :
Music Artiste : Kezyklef(Lagos), Dandizzy(our pride own) , Agbalanze(Enugu), Jikume(Niger Delta Queen), Zangalin, Bobzy, Exbrown E, CSplendor,' Dbee, Xten Great(Abuja), Kayflex, Bobby Dre, etc
Comedians : Uncle Lee, Rugged Pastor, Mc Senator, Bishop M Charles, Akpan Okon, Mc Bigsolo, King D Comic, Son Of Man, Mr Talkative
,
Deejays : Dj Zangalin, Dj Telesy, Dj Bless, Dj Nik A, Dj Jenkins, Dj Yanwhiz
SPECIAL APPEARANCE : – Emeh Anyalekwa (OMPAN national president /Igberetv Director ).
-Fr Chimaobi Ohaji (COTA parish priest).
-Oraye St Franklyn (S. A. to Gov Wike on Social Media).
– Joseph Polycarp (director Effective Medicals Limited).
-Pilot Daniel Okwara (Director Decent Digital/ Imo state gubernatorial aspirant).
– WIKEMATICS
Ogestar Obiwali
and many others.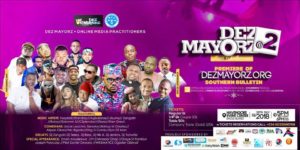 Tickets :
(OMPAN members free access)
Regular – 1k,
VIP – 5k,
couple — 10k,
Table – 50k,
company table(Gold )– 120k.
For sponsorship, partnership and tickets call — 08035586768..
For Donations :
GTBank – 0163332135
Okoye Chidiebele (savings).
The experience will blow your mind.